What Is

Blepharospasm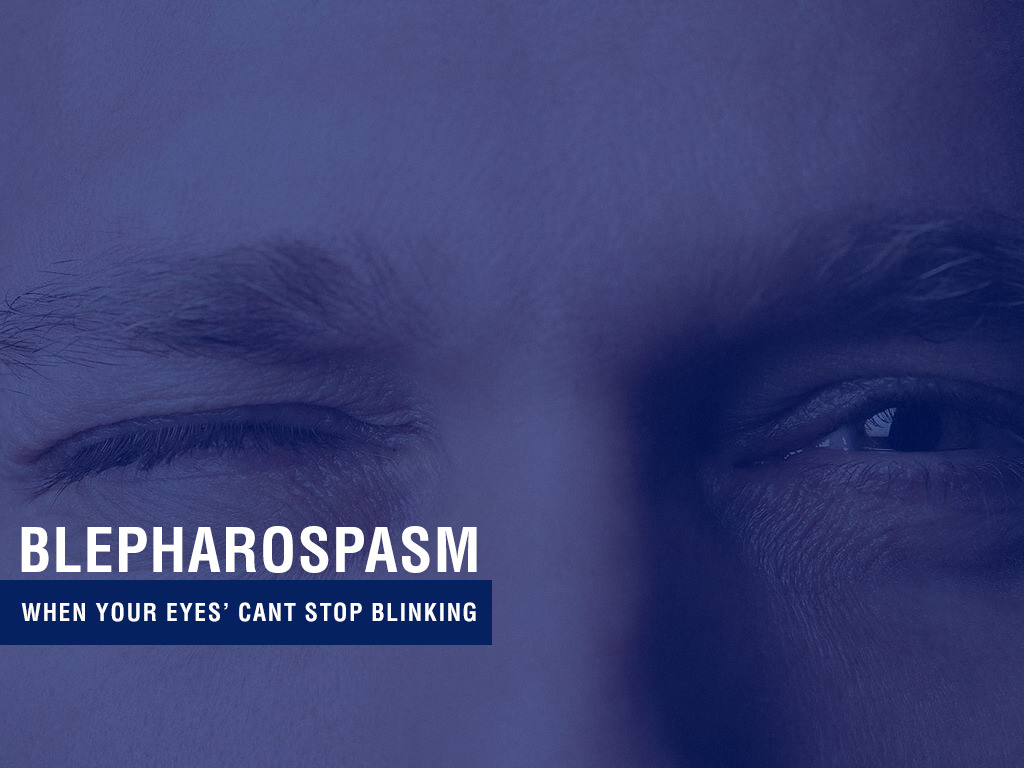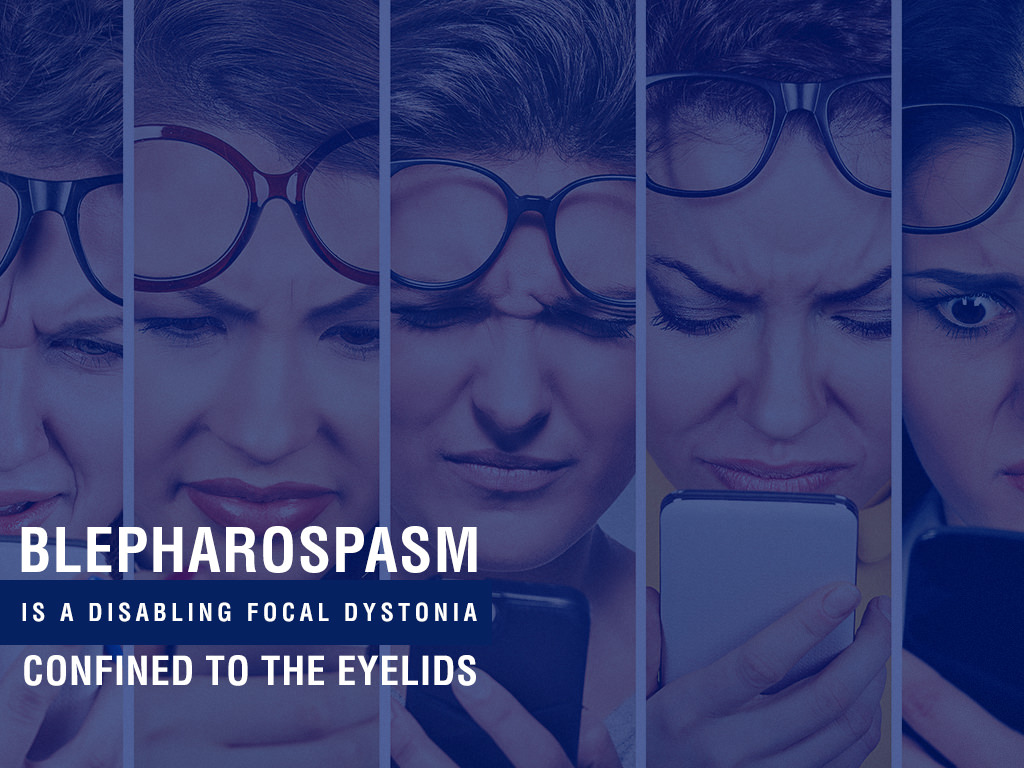 Blepharospasm
Blepharospasm is a neurological movement disorder characterised by involuntary spasms of the eyelid muscle (commonly described as a twitchy eyelid!). There are around 20 to 130 cases per million people globally; it tends to affect women more than men and predominantly develops between the ages of 50 and 60.
What are the Causes
of Blepharospasm?
The exact cause of BSP has yet to be determined, however, research suggests a combination of genetics and environmental factors are to blame. It is thought that the part of the brain that controls muscles (basal ganglion) does not work properly. People with existing eye disorders (e.g. dry eye) are more prone to developing BSP and stress is known to exacerbate it. It can also arise from taking certain types of medication such as dopa blockers.

What are the Symptoms of BSP?
BSP can initially present as occasional blinking and irritation. Additional motor symptoms can include light sensitivity, squinting, difficulty keeping eyes open, more frequent blinking, burning sensation, grittiness and involuntary winking. As the condition worsens, it can cause substantial visual disturbance and even functional blindness (the eyes still function, however the eyelids cannot be kept open rendering the person blind). BSP tends to occur in both eyes in 80% of patients. Progression can occur over a few months or even years.
People with BSP may also experience non-motor symptoms such as mild cognitive and sensory impairment. Understandably, people with a severe BSP have impaired sleep quality and often develop obsessive/compulsive behaviour. One of the other signs is if a patient has developed a 'sensory trick' for instance a light touch to the face, singing or wearing sunglasses enables their eyes to be kept open more easily. BSP can also lead to anxiety or depression

What are the Different Types of BSP?
When BSP arises spontaneously it is known as 'idiopathic BSP or 'benign essential BSP. If it occurs further to another condition it is referred to as 'secondary BSP. Such conditions include neurodegenerative disorders e.g. Parkinson's Disease, metabolic disease, e.g. Mitochondrial encephalopathy or specific causes such as viral encephalitis. BSP is also characterised as mild or severe, depending on the symptoms reported.
How is BSP Diagnosed?
BSP is diagnosed by specialists using a clinical guideline algorithm. One of the key signs is the patient developing a sensory tick to alleviate their symptoms. They will also blink more frequently during rest than conversation (the opposite of unaffected people). Severity is assessed using a 5-point grading system which looks at degree, duration and frequency of eyelid closure as a result of the spasms. It is commonly misdiagnosed as other eye disorders presenting with similar symptoms such as ptosis, eyelid tics or facial chorea.
What is the Treatment of BSP?
Although there is no cure for this condition, several therapeutic options exist to minimise discomfort and manage the symptoms. Home remedies to soothe mild BSP include application of a warm compress over the affected eye along with gentle massage of the eyelid. Some people also swear by acupuncture, chiropractic intervention and hypnosis. Treatment options for more severe cases include botulinum toxin injections (also known as Botox) to relax the eyelid muscles, medication or surgery. Although botulinum injections may result in side effects such as bruising, blurred vision and eye dryness, these usually resolve quickly.
Oral medication can be administered but are not a popular option as they are associated with unpleasant side effects (such as constipation, nausea and dizziness) and are not as effective as botulinum. Surgery involves removing muscle and nerves from the eyelid and is the most effective treatment option for severe cases.
It is important that BSP is treated to avoid functional blindness and other potential complications such as dermatochalasis (baggy eyes) and corneal abrasions (scratched eyes).
How can you prevent BSP?
For those who are prone to it, future occurrences can be minimised by managing stress effectively, limiting caffeine consumption and getting adequate sleep. Concentrating hard on a single task is also a known trigger.
What is the Difference between BSP & Ptosis?
While BSP is a progressive neurological disorder characterised by spasms of the orbicularis oculi and periocular muscles in the eyelid, ptosis is a condition where one or both eyelids droop as a result of weakness or paralysis of a different muscle (levator) in the upper eyelid. The affected person cannot lift the eyelid up, resulting in obstructed vision.